Cynthia M. Fettrow, M.S., LMFT - Port St Lucie Florida
by Cynthia Fettrow , M.S., LMFT
(Port St. Lucie, FL)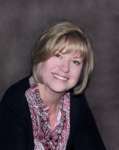 Cynthia M. Fettrow, M.S., LMFT


10801 SW Tradition Sq
Port St. Lucie, FL 34986
Phone: (772) 812-8960
Specializing in Solution Focused therapy, helping individuals and families deal with common life difficulties.
These issues may inculde dealing with relationships, anger, coping with divorce, loss, depression, health issues and children's behaviors. Family Therapy Services may be scheduled in-home or at Premier Wellness Centers in Tradition Square.
In-home therapy allows flexibility in scheduling while in-office provides private and uninterupted sessions. Additional areas of expertise include corporate consulting, EAP and hypnotherapy.
MS, Nova Southeastern University, Mariage and Family Therapy, 2001
Licensed Marriage and Family Therapist, Florida -
License # MT 2260