I had an affair with my married boss - "Learn from me. Don't do what I did."
by Sammy T.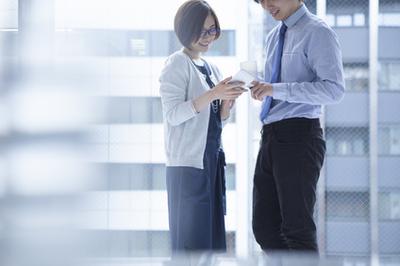 My affair with my boss started off innocently - Please. NEVER DO THIS!
and it was HOT!

My boss and I worked together for about 6 months before we ever crossed the line. Never spoke inappropriately. Did everything by the book. He was happily married. I was happily single (is there such a thing?). He was (is) a really wonderful man. Funny. A 'guys-guy'. Everyone respected him. Still do, as no one knows that we were ever "us".

One day, I mentioned something about thinking he was really cute, and how when we first met, I had a crush on him. There it was. The beginning. The first step toward going down that road. The moment the emotional affair started. I could go into details about what was shared, the inside jokes, the looks, the stolen moments in a full room. The quiet time we tried to get together.

One day, that emotional affair wasn't enough. The tension had grown too much. The desire for more was clear.

So, he asked for my address. And I gave it to him. He came over, and gave me the most passionate kiss I've ever had. He grabbed ice cream and we went into the bedroom. In respect for both of us, and his wife - I won't go into details on the sex, but it was memorable!

The next day at work, he asked if he could come over again that night. And he did. And we saw each other twice a week, then three times a week, four times a week, and then five times a week. It really built to a regular thing. He had a key. He worked really weird hours, so he'd come over before or after work.

It lasted about 9 months. 9 great months. I remember the first "I love you", I remember the look in his eyes when we were together. It carried at work. It was the best look, EVER.

I went on a trip for a week, and that's when things changed. His wife asked him if he was cheating. Ironic, as that's the first time he wasn't with me. To this day, I don't know what prompted it. I don't know what was discussed. I don't know how he felt. I don't know any details, as he would NEVER talk about her to me. Ever. Ever. Ever. Nothing. Ever! All I know was he said we couldn't see each other any more. He said "I can't". I was crushed.

What right did I have being sad I couldn't be with him? I didn't.

Why was I sad I couldn't have him? I never actually did.

Why could he not, when we already had?

These were questions that he didn't answer. He wouldn't answer. I couldn't really ask. He never gave me the opportunity. He was just done. No closure. No goodbye. No last time. Nothing was the same.

I decided to go part time and only work on the weekends. Where I wouldn't see him. Except those times when he'd come in, and I'd disappear - or make sure to never be alone with him. Never look him in the eyes. It was AWFUL. So, so painful.

I ended up leaving. I just couldn't walk past his office. I couldn't hear him talk to the supervisors on the two-way. Sounding just fine. Laughing. Acting totally fine. I was broken. Truly. Broken. In a way I've never gotten over. I've never forgotten. I've never moved on.

Three years later, we reconnected. And we got together. Short lived. I could never trust him to not hurt me again.

Another year after that, reconnected again. Saw each other. Even shorter lived. I couldn't let myself get to that point with him again. Getting over him was the HARDEST Thing I've ever done. Someone I should have never been with, never had, never expected had my heart - and it was still broken. His, but shattered.

It's been SEVEN years, and I've not had a solid relationship since him. Even then, that wasn't a relationship. I love him. I wish him the very, very best. I hope he goes to bed happy every night. I hope he forgives himself. I hope he doesn't think about me, about us. I hope that his wife is happy. I hope his sweet children still look at him like their hero. I hope God will forgive me for my sins and shortcomings.

I regret our relationship, only because I stole moments that should have been only for him and his wife. I don't know her personally, but she didn't deserve what I did to her.

Ask me if having an affair is worth it? No.

Would I relive it? Yes. Sadly yes.

My heart still hurts to this day just thinking about not being with him. I am pathetic. I am completely in love with someone who I'm sure doesn't remember me.

It still takes all I have not to call him when I hear a sad song. I think of him every night before bed. There isn't a day that goes by that I don't wish that he feels for his wife the way I feel for him.

My hope is that if someone is reading this thinking of having an affair, please DON'T.

If you are thinking about sleeping with your married friend/coworker/boss, please DON'T.

Take it from this sad, broken person. It's something you can never take back. It takes something special from someone else. And you won't get away with it the way we somehow did.

The moment she was suspicious, he dropped me like I was NOTHING, because the truth is, I was nothing to him. The "I love you's" were just words with no meaning. I meant nothing to him. We were just an illusion I created. I know this. Yet, I can't get over him. PATHETIC! Learn from me. Don't do what I did. You and he and his wife & family deserve better.