Is my Wife Having an Affair
That's a Question No Man Wants to Be Faced With!
Is My Wife Having an Affair?
The other day, one of our close friends startled us with this question during dinner at our place. "Is my wife having an affair?" Well, nobody among us knew for sure, but we sure didn't like the thought one bit. They had been together for 17 years and were our model couple. But things have slowly changed between them, as our friend told us. So we gave our friend a list of pointers that helped him answer his question.

Is My Wife Having an Affair? Here are Signs to Know!
Your wife stops confiding in you.


Her best girlfriend acts strangely around you now and even tries to avoid you. Yes best girlfriends usually share everything and she probably knows something you don't.


Your wife creates a new e-mail account and doesn't inform you.


Suddenly after so many years, your wife becomes a fitness freak and joins a gym.


She keeps getting calls and whenever you answer the phone, the line goes blank.


Several times you have caught your wife not wearing her wedding ring and whenever you point it out, she says that she always keeps it in a safe place before her shower and has forgotten to wear it today (or some equally lame excuse).


You find exotic lingerie in her wardrobe, but never see her wear it. Might be a good reason to wonder, "Is my wife having an affair?"


She has started going out of town more often either saying it is on official purposes or for a visit to parents and relatives.


She says that she has to stay over at her girl friend's place, yet again, as both of them want to talk on girlie things. This has become a frequent happening during the week.


Your wife is touchy and angry all the time and picks fights with you.


She does not take care of household chores as she used to earlier, and is always distracted.


She has started speaking in a low voice whenever she gets calls and hangs up very quickly.


She says that she is going grocery shopping, but turns up hours later and gives no explanation.


You have caught her sometimes smelling of an unfamiliar aftershave, but she tells you she has been perfume shopping with friends.
Our friend found out that the answer to his question- 'Is my wife having an affair?' Many of the pointer above were leading him to the truth, but it was a hard reality.
He then confronted his wife to find out the truth. At first she denied, but eventually came clean.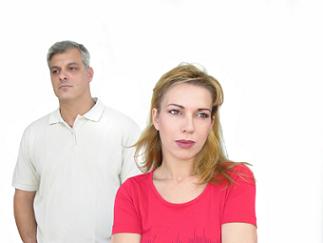 I must say he is a good man for trying to work through the infidelity and things seem to be getting better.
Well it will be hard road for both of them, but there is hope that they will get back to being happy again! I'm praying!
So if you are asking yourself, "Is My Wife Having an Affair?" there is hope once you get to the truth.
Return From Is My Wife Having an Affair to Cheating and Infidelity Home Page