John Edwards Admits Love Child
by Chris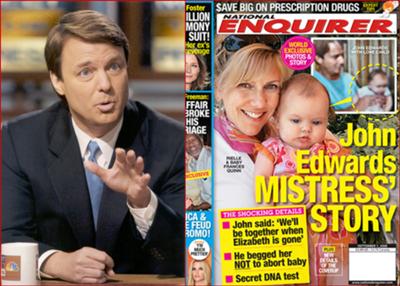 John Edwards Admits Love Child
Finally John Edwards admits love child. If you remember when this story originally broke, John Edwards stuck to his guns in saying the allegations were absolutely false and just "Media Trash".

A few days ago his story changed.

Recently in an interview with Bob Woodruff from ABC News, John Edwards admits love child with former campaign employee.

However in the interview, he still denied paying the woman to keep quiet about the affair.

Here is an article from Telegraph.co.uk

The baby was conceived with former campaign worker Rielle Hunter just two months after his wife Elizabeth learned she had incurable cancer in March 2007.

It was also five months after Mr Edwards had sworn to his wife and campaign aides that his affair with the woman was over.

His admission that he was the father of two-year-old Frances Quinn Hunter comes just two weeks before the publication of a book by a former aide.

Andrew Young, who claimed paternity of the child, is due to release a book on Mr Edwards' affair in early February.

He will detail his role in covering up the scandal that is expected to finish the political career of Mr Edwards and produced a wave of sympathy for his wife Elizabeth.

The well-groomed former senator from North Carolina, was among early front-runners in the Democratic field in the race eventually won by Barack Obama.

Yesterday, he said in a statement: "I am Quinn's father. I will do everything in my power to provide her with the love and support she deserves."

Adding that he had reached an agreement over financial support with the child's mother, he said: "It was wrong for me ever to deny she was my daughter, and hopefully one day, when she understands, she will forgive me."

Mr Edwards, a wealthy lawyer, spent 18 months denying any affair with Miss Hunter, who had introduced herself to the candidate in the bar of a New York hotel in February 2006.

Ignoring aides' concerns about Hunter, 45, who was deemed both flirtatious and highly tenacious, he hired her to shoot life-on-the-road footage for the campaign website and ushered her into his inner circle.

Alarm bells rang when one member of his staff trawled the internet for information about Ms Hunter and found she was the inspiration for a character in a Jay McInerney novel described as "ostensibly jaded, cocaine-addled, sexually voracious".

Aides told the authors that Ms Hunter worshipped Mr Edwards and told him he had the power to change the world or become another Gandhi.

Four staff members resigned over the affair, which seemed to have come to an end at Mrs Edwards's insistence in December 2006.

News of their relationship was made public by a National Enquirer story in Oct 2007, to which Mr Edwards responded: "The story is false. It's completely untrue, ridiculous."

Two months later, just weeks before the caucuses in Iowa, the tabloid reported that Ms Hunter was pregnant by Mr Edwards. In an extraordinary cover-up, the candidate's personal assistant Andrew Young, a married father of three, claimed he was the father of the child.

The Enquirer's reputation for outlandish tales meant the mainstream media mostly ignored its claims, until the paper caught Mr Edwards visiting Miss Hunter and the baby at a Los Angeles hotel. He then had no choice to confess to the affair but continued to deny paternity.

Asked by NBC why it had taken two years for Mr Edwards to publicly admit paternity, the politician's long-time adviser, Harrison Hickman, said: "There are a lot of adults involved, there are a number of families involved, and there are also a lot of kids involved."

"Elizabeth thinks that he should acknowledge this," Mr Hickman added.

Mrs Edwards, who has breast cancer, has said that it does not matter to her whether her husband fathered a child with Ms Hunter or not.

"That would be a part of John's life but not a part of mine," she said.

Mr Edwards came close to being vice-president running alongside John Kerry in 2004. He is now also facing a grand jury investigation into whether or not he misused campaign money in an attempt to keep Ms Hunter and word of their affair quiet.

What do you think about the aticle in which John Edwards admits love child? Is his political career over?