SHE'S TAKING MY PLACE
by RACHEL GRACE
(BELLEVUE, WA)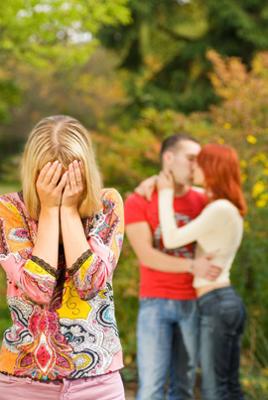 THE PAIN IS TOO MUCH
SHE CANNOT, MUST NOT TAKE MY PLACE
MY PLACE IS NEXT TO YOU
TOUCHING YOUR FACE

WERE SHE TO REPLACE ME
I FEEL I WOULD DIE
HER ARMS WRAPPED AROUND YOU
FEELING SHE OWNS YOU

I CANNOT BECOME
A FACE OF THE PAST
THAT GIRL SHE'S SO MUCH BETTER THAN
A MEMORY BURIED WITH YOUR YOUTH
AND SHE WILL FEEL SO VICTORIOUS
SO SAFE AND UNTHREATENED

I IMAGINE THE PAIN
OF HER BEARING YOUR CHILDREN
NOT HER PAIN, BUT MINE
THE CHILDREN THAT WE NEVER CREATED
CHILDREN WITH HER FACIAL FEATURES, AND YOURS
BLUE EYES, NOT BROWN

YOU'LL HOLD HER HAND
WITH THE PRIDE THAT A NEW FATHER FEELS
YOU'LL BRUSH THE HAIR
FROM YOUR SLEEPING WIFE'S BROW
NEVER ONCE THINKING OF ME

I WANT YOU TO KNOW
THAT I WOULD HAVE DONE ANYTHING
TO KEEP MY PLACE BESIDE YOU
I WOULD LEAVE EVERYTHING BEHIND
I WOULD GIVE UP MY LIFE FOR YOU
JUST TO WATCH YOU BREATHING SOFTLY EVERY MORNING

DOES SHE FEEL THAT WAY ABOUT YOU?





Join in and write your own page! It's easy to do. How? Simply click here to return to "Poetic Expression".