Tiger Woods Cheated on Wife Elin!
More Hollywood Scandal
Tiger Woods cheated on wife Elin according reports from several fairly reliable websites released over the past week or so.
Today mistress number four came forward to claim that she had an affair with Tiger Woods, and according to other reports Elin Nordegren (his wife)has moved out their shared residence.
Below is the title from the Vancouver Sun:
Tiger Woods believed to have been drinking before car crash: Subpoena request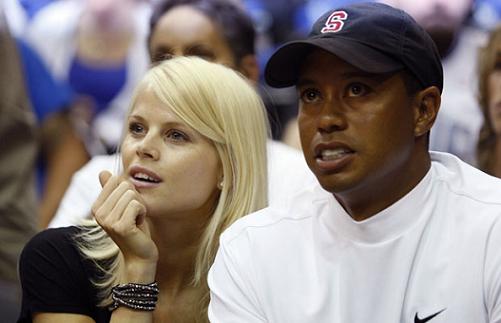 and below is an excerpt from the same paper:
But the golfer isn't out of the woods yet. His wife, Elin Nordegren, has reportedly left the family home as a report in Britain's Sunday Mirror suggests a number of women have come forward in the week-old sex scandal dogging the golfer. Alleged mistress No. 4 is a Las Vegas-based model by the name of Jamie Jungers.
In a story that labels Woods "predatory" and a "sex addict," the Mirror claims Woods had been married just nine months when he met the 26-year-old blonde at a 2005 party at Las Vegas's Bellagio Hotel. Over the next 18 months they met frequently at his California residence, say unnamed sources.
The Mirror quotes Jungers' ex-fiancé, former golf fan Derek Schmidt, saying, "I was a massive Tiger fan . . . On the night Jamie met him for the first time, I had just bought the new Tiger Woods computer game. The following morning she told me she had met Tiger Woods and he gave her his number – and like an idiot I got really excited about it.
"I even asked her if she could call him so I could get my computer game signed."
Jungers insisted nothing was going on, says the report.
The revelations come hard on the heels of reports last week that Woods has engaged in multiple affairs while married to his 29-year-old wife of five years, Elin Nordegren. Among the other women who've made allegations or are alleged to have had affairs with Woods are New York hostess Rachel Uchitel, 34, Los Angeles cocktail waitress Jaimee Grubbs, 24, and Las Vegas marketing manager Kalika Moquin, 27. Grubbs provided more than 300 text messages and a damning voicemail recording to Us Magazine as evidence.
While Woods hasn't confirmed any specifics, a statement he released on his website last Wednesday made reference to his personal "transgressions," widely viewed as an admission of guilt.
To make matters worse, two other women were linked with the golfer over the weekend. Mindy Lawton, 33, an Orlando, Florida-based waitress, has said she had a year-long affair with Woods, according to the Huffington Post. And Cori Rist, a 31-year-old woman who reportedly met Woods at a Manhattan hotspot in 2008, is said to be a regular member of Woods's travelling entourage.
Relatives of Lawton, an $8-an-hour diner waitress and manager, were extensively quoted in an article in the Mail Online, stating that the 34-year-old naively believed that Woods was in love with and faithful to her over the course of their affair, which involved encounters at his suburban Florida home.
Lawton's sister, Lynn, said Woods abruptly ended the affair in 2007 when a news tabloid investigation threatened to uncover his infidelity. The article alleges that Woods's management team was succesful in burying the story in part because of Woods's promise to appear in a cover article for another of the media company's publications.
On Monday, a seventh name was linked to Woods — that of Holly Sampson, a 36-year-old soft-porn star known for such films as Diary of a Horny Housewife, the Daily Telegraph reported.
Woods, who has been holed up in his Florida home with his wife and children since the much publicized car accident that touched off the scandal Nov. 27, is undergoing marital counselling.
According to several reports Sunday, Woods was seriously considering an offer to appear, alongside his bealeaguered wife, on talk-show queen Oprah Winfrey's show to publicly apologize and attempt to explain his behavior.
I am sure we have not heard the last of this Hollywood Scandal. I can only guess that Tiger Will have to make a public appearance to address his fans and possibly admit infidelity.
"Another Hollywood Scandal!"
Do celebrities owe their fans public apologies? What do you think?
More to follow....
Return From Tiger Woods Cheated on Wife Elin to Cheating Celebrities