Watch Out Cheaters, The Honey Trap May Be Set!
by J-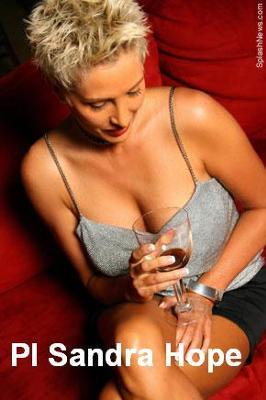 Sandra Hope - She Sets The Honey Trap
Watch Out Cheaters, The Honey Trap May Be Set!

If you are out looking to cheat on your husband or wife, you better think twice. There is a new operation taking place in Britain and other countries around the world.

Husbands and wives in Britain that are fed up with their cheating spouse are turning to a method known as the "Honey Trap" to see just how far their spouse would go when tempted.

I don't know what your thoughts are on this, but it does seem to be entering a gray area when it comes to relationships.

If you think about, you are leading the horse to the water yet you hoping that it won't drink.

Here is an article about cheating in Britain and how this Honey Trapping hunk is combating the epidemic:

London, July 2 (ANI): When Richard Martinez goes out clubbing at night, its not partying that surrounds his mind the British blokes target is to flirt and flatter a woman, so that he can test their fidelity.

The 38-year-old former RAF officer "honey trapper", who owns the Expedite Detective Agency, charges 300 pounds for an integrity test on a potential cheat.

It carries out surveillance and missing persons enquiries, as well as up to 100 honey traps a year.

The muscle bound hunk earns 300 pounds a night, which are given by suspicious husbands and boyfriends to test the fidelity of their partners.

I act as the eyes and ears of any anxious man who suspects his partner of cheating. I offer proof if his wife or girlfriend will stray, The Sun quoted him, as saying.

Almost every weekend, Richard heads to a location arranged with a client and waits for the target.

Usually aged from her late 20s to early 40s, the woman will be with two or three mates and dressed for a girls night out.

She will normally be showing a lot of leg or cleavage but rarely both, reckons Richard. And her looks will vary vastly.

At some point, Richard will catch the womans eye and smile, before moving in to tempt her into four cheating crimes.

She fails his test if she says she is single, swaps phone numbers, arranges a date or lunges at him.
About half the women he meets open the conversation themselves but Richard has plenty of lines ready if they don't.

Their chat can last for hours or just minutes if the target gives him the cold shoulder.

Richard said: What I do is enticement, not entrapment. Im not encouraging women to do something they wouldn't otherwise do.

I never touch a target or force her to talk to me. Ideally, shed speak first but if I do have to initiate conversation, I'll be more chatty than flirtatious and just try to react to things she says, he added.

Nearly half the women Richard tests take the bait. A few lean in for a kiss and one or two make a grab for his wedding tackle too. (ANI)

It seems like a pretty cool job, but is it ethical? It all really fair in love and war?

Here is another article about Honey Trapping.

HONEY attracts. And 'honey trappers' attract wayward men.

There is also a sting. These men have been set up by their wives, who hire women to test their husbands' fidelity.

Last week, a British media report said that honey trapping was a growing trend in Britain, with more private investigators there using sexy women as bait to test the faithfulness of their clients' spouses.

It is happening in Singapore too.

When The Sunday Times rang up 10 private investigator (PI) firms here last week, four readily offered the honey-trapper service.

One even claimed that its honey trappers would 'go all the way'. But the others drew the line at physical intimacy.

Lawyers and the six firms that did not touch such jobs said that although 'entrapment' of this sort is not illegal, it raises ethical questions.

And while it is more usual for women to be hired so that wives can entrap their husbands, some husbands will 'test' their wives' fidelity, said one PI. In such cases, handsome men are used as bait.

In any case, honey trapping does not come cheap.

The four firms quoted fees of $5,000 to $18,000 for a month's work. These figures can be as much as three times more than those for regular surveillance on an errant spouse.

One firm justified its fee by claiming that its honey trappers were 'trained professionals'.

Two firms said that their own women PIs would play the honey trapper role, but the other two said they would engage 'social escorts or foreigners' who fit the bill.

One PI, whose quoted fee was $10,000, gave the assurance that he would get a 'head-turner'. He said: 'My female PIs, good figure, nice boobs.'

The PI who quoted an $18,000 fee said his staff would first do a background check on the spouse being trapped. The target would be tailed to his hangouts in order to establish the type of woman he was attracted to. The firm would then pick the right female PI for the job.

He added: 'I have a range of PIs to choose from, different ages and all races.'

There are other expenses that add to the fee. Apart from the honey trapper, another PI is needed to take pictures or video recordings. In some cases, more than one trapper may be needed in reserve if the first fails to entice the target.

All the honey trappers seem to have the same modus operandi: They typically set up a 'chance meeting' in pubs, MRT stations or in the area where the target works.

A typical scenario: She bumps into him, asks to borrow his cellphone or simply drops a file. A 'friendship' may result.

Or, more directly, she drops him a flirtatious message or phone call. She may claim that she got his number from a friend.

If an exchange of flirtatious calls and messages follows, she will ask for a meeting.

'Basically, we're setting a trap for these men to bite,' said one PI. 'And 90 per cent of the time, they will.'

Several PIs find such entrapment distasteful.

Veteran PI Lionel De Souza, a former police officer, said he had turned down jobs from wives seeking honey-trapper services. 'They know their husbands are cheating and they want to get evidence in case of a divorce,' he said.

But he felt that good detective work was enough to uncover such evidence.

Retired PI Harmon Singh suggested one other motive for women resorting to honey trapping: Some want to find out if their husbands will be faithful enough to resist temptation.

'They suspect their husband flirts around, but they just want to confirm if he will succumb,' said Mr Singh, whose firm provided honey-trapping services.

Another PI, who disapproves of entrapment, said some clients want proof of cheating to get out of a marriage. Mr Jegan S.M., director of Kokusai Security, said: 'They just want to get rid of their partners fast.'

Some husbands, suspicious of their wives' fidelity, have engaged male honey trappers. One PI said that male honey trappers were usually the 'handsome gigolo or party boy types'.

Most lawyers said entrapment was unethical.

Senior lawyer Amolat Singh said: 'But though morally reprehensible, it is not unlawful.'

Family lawyer Foo Siew Fong added that the Family Court, where divorce hearings are usually held, was concerned with whether adultery had been committed and not whether a trapper had been used.

Kokusai Security's Jegan S.M. said PI firms which provide honey-trapper services were tarnishing the reputations of other PIs.

'It's not fair to the target,' he said. 'What we need is the truth, not setting him up.'

One firm which provides the service said it would not allow the evidence obtained to be used in court. 'It's only for spouses to know if their partners will be faithful,' the PI said.

Well, let me know what your feeling is about employing tactics such as this when testing your spouse's fidelity.